NORTH RANCH ESCAPEE PARK
This is our beautiful AZ winter home. It is also home to a variety of birds and wildlife. We usually arrive here in February and spend a couple of months giving our lot some TLC (weeding, trimming, etc). This year (2005) our neighbors, Paul and Nancy Wilson, invited us to go

"4-wheeling" in the desert. It was great!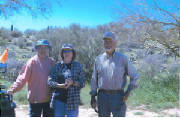 21315 WESTWARD VIEW, LOT #255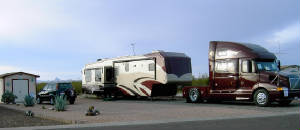 OUR NEIGHBOR'S EASTER CACTUS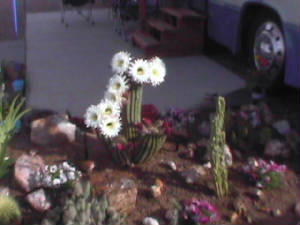 Our neighbors across the street are Dave and Marie Dengate. This is their beautiful Easter Cactus. It still has lots of buds ready to bloom.
OUR EASTER CACTUS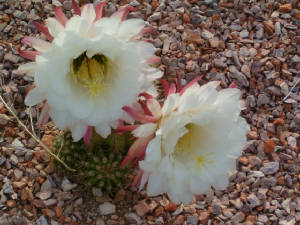 Our neighbors, Del and Pat Holowel, planted this cactus "pup" for us a little over a year ago. Look at it now.

VULTURE PEAK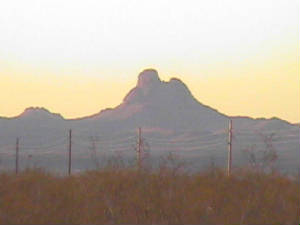 This is the view from our big rear bay windows. There is a beautiful hiking trail to the top of Vulture Peak. Last year, we hiked to the saddle of Vulture Peak with our friends John and Ginger Olson from South Dakota. Check out our Webshots album "Custer State Park 1st Annual Rally at North Ranch" for pictures of our hike to Vulture Peak. This year, we hiked to the saddle again with our HDT friends Jack & Danielle Mayer and Mark Pelow. BUT...Jack, Mike and Pat went all the way to the top this time. It was pretty steep and lots of rock climbing, but we made it. There were 2 GeoCache containers on the top. One had a log book to sign from the Chamber of Commerce in Wickenburg. The other one was empty. Quite an accomplishment and we're mighty proud of ourselves!!! There are more pictures of our hike to Vulture Peak on our Webshots web site.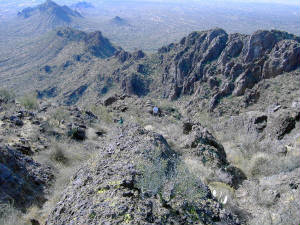 A view from the top. Jack and Pat are climbing down the rocks but they're hard to see.
Mark and Danielle waving up to us from down in the "Saddle".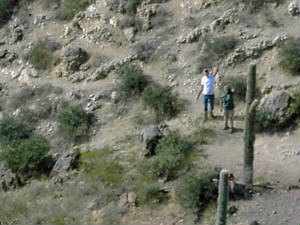 Please click below to visit our Webshots site for more of our Arizona pictures.
North Ranch Street Address:
21315 Westward View Rd
Lot #255
Congress, AZ 85332
North Ranch Mailing Address:
P O Box 1060
Congress, AZ 85332-1060
Phone: 850-294-0281
WEBSITE LINKS: